Historic Conference for African Americans for Humanism
May 20, 2010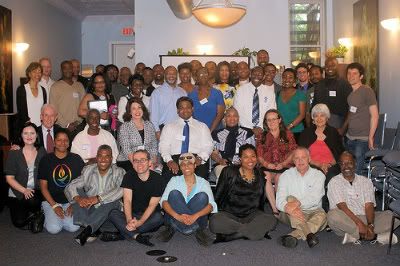 Sunday May 16, approximately 50 people attended the African Americans for Humanism conference hosted by the Center for Inquiry DC. The event made history as the largest gathering of black non-theists in the United States.
Presentations included those by Norm Allen on coming out as Humanists/Atheists, Christopher Bell about the problem with Christ worship in the black community, Jamila Bey on how Christianity's misuse permits child abuse, Sikivu Hutchinson on race and gender issues with religion, and Debbie Goddard on what is the future of the Freethought movement and diversity.
The participants pledged to return home with the understanding that Black non-believers are a growing force in their own communities as well as the Freethought movement overall.
Links to media:
The Root
:
The largest gathering of African-American atheists is a reminder that non-believers are not alone.
News One
:
Black Atheists Gather At Conference In Washington D.C.
The Huffington Post
:
Blacks, Mirroring Larger U.S. Trend, 'Come Out' As Nonbelievers
BeliefNet
:
Blacks, Mirroring Larger U.S. Trend, 'Come Out' as Nonbelievers
NPR
:
Black Atheists Say Non-Belief Means Cultural Outsider
The Pew Forum on Religion and Public Life
:
Blacks, mirroring larger U.S. trend, 'come out' as nonbelievers
The Tom Joyner Morning Show
:
Appearance with Jamila Bey
Links to blogs:
Unscripted
:
Advancing a Humanist Response to Issues Facing Communities of Color
Humanist Network News
:
Advancing a Humanist Response to Issues Facing Communities of Color
Friendly Atheist
:
The Largest Ever Gathering of Black Atheists
Black Skeptics Group
:
The Forked Road Ahead: African Americans for Humanism Conference
Friendly Atheist
:
African American Atheists Featured on NPR