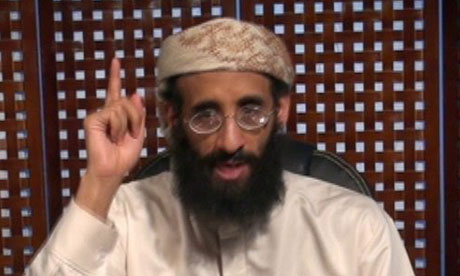 "A relative of al-Awlaki said Friday that the cleric is not dead.
"Last year, Al-Awlaki's father filed a lawsuit against Obama, then-CIA chief Panetta and then-Secretary of Defense Robert Gates to prevent the U.S. government from trying to target his son for assassination.
"A district court judge threw out the case in December, leaving open the question of whether the government has the right to kill Americans abroad without a trial.
"The American Civil Liberties Union said Friday that the killing was part of an American counterterrorism program that 'violates both U.S. and international law.'"
"A statement from the Dar Al Hijrah Islamic Center in Falls Church, Virginia, said al-Awlaki was a peaceful man while he was imam there and turned militant only after returning to Yemen. The statement condemned his espousal of violence."
CNN: U.S. officials warn of possible retaliation after al Qaeda cleric is killed
"Awlaki was born in New Mexico, while his father, from a prominent Yemeni family, was studying agriculture there on a scholarship. His family returned to Yemen in 1978 and Awlaki lived in the capital, Sana'a, until finishing his secondary education. He then returned to the US, where he attended colleges in Colorado and San Diego, gaining degrees in education. In 1993 he travelled to Afghanistan, then in the depths of the chaotic civil war between former mujahideen factions which had followed the withdrawal of Soviet forces."
"... Awlaki became a personal mentor to a number of groups and individuals contemplating violence. One was Nidal Malik Hasan, the US army officer who is charged with killing 13 people and wounding 30 at Fort Hood, Texas, in November 2009. Another may have been Faisal Shahzad, a Pakistani-American who pleaded guilty to an attempt in May 2010 to detonate a car bomb in Times Square, New York, and was sentenced to a life term in prison."
"In recent years, US officials have cited evidence that Awlaki had become personally involved in the planning of attacks on America – something that would help provide a legal justification for the controversial act of remote-controlled assassination."
Guardian UK: Anwar al-Awlaki obituary
If a US citizen who preaches a "fire brand" sermon is justly assassination by drones, then what does that mean for the myriad of Protestant "fire brand" preachers, and the GOP propagandists like Rush Limbaugh, and Ann Coulter JD, etc.? Those people also promote fights, war, assassination. Obviously al-Awlaki had a change from a peaceful and just message while he lived in the USA, to a radical and violent one after he left, but I have to wonder why he changed?