And, of course, the fanatics and demagogues (a few of which we have in this forum) on either side have no ability to recognize anything reasonable in the concerns of the other but rather tar them all with the same brush and come up with "clever" words to villify and belittle the other such as "Tea baggers" or "Occupoopers".

Occam

Suddenly you have issue with a clever mid-word alliteration/alteration? Perhaps you could refresh my memory on all the other times* you criticized the bigoted and homophobic slur "tea baggers" on this forum even when there have been no known cases of Tea Partiers tea bagging anyone? I mean, if there were multiple cases of Tea Partiers tea bagging out in public, then by all means, slap that label on them because it would be well-deserved in that case!

*Not counting this one time when you think you must criticize both for fear of being labeled a hypocrite.
The difference, of course, is that the Tea Partiers didn't tea bag anyone in public, but when it comes to OWS, their obsession with public feces is well documented:
From the infamous defecating on a police car…
…and their other public defecation acts…
(Stay classy OWS!)
…to the times they have thrown feces.
(At least it helps prove evolution as they are not that much different than monkeys!)
And the time they dumped Buckets of human waste inside a bank as seen here: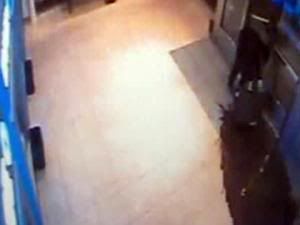 If ever the moniker of "Occupooper" was deserved this is the case.